Costco Photo is one of Costco's newer business ventures. The company itself is operating a worldwide chain of membership warehouses which all carry its...
Costco Photo is one of Costco's newer business ventures. The company itself is operating a worldwide chain of membership warehouses which all carry its brand and offer cheaper merchandise to its members. Its products are geared mostly towards wholesalers, but have also come to attract members from all walks of life along the way. In addition to this, the photos division has also been opened for members, and could be enjoyed by most of them in some of the countries where Costco operates such as Canada, the United Kingdom, Japan, Australia, and the United States of America.
Below are the latest Costco photo prices.
Size
Price

Prints

4x6 Prints
$0.17
5x5 Prints
$0.39
5x7 & Wallet Prints
$0.59

Enlargements

8x8
$1.79
8x10
$1.79
8x12
$1.79
11x14
$3.99
12x18
$3.99
16x20
$6.99
20x30
$9.99

To Find Costco Near You
Products and Services
With over 67.4 million members worldwide, Costco is indeed knows how to run its business well. As far as Costco Photo prices are concerned, they are on par and even way lower than the competition, which is part of the membership perks that most people enjoy.  Membership is as easy as signing up online or visiting the nearest Costco branch near you. Membership allows the client to log in to their online platform called The Photo Center, where various activities such as uploading photos and customizing them for the creation of relevant products could be done.
Common services include the typical photo printing ones such as the transfer of files from one medium to another. Prices for DVD transfer services begin at $18. InkJet cartridge refills are also possible starting at $7.50. Other specialized services include scrapbook prints, photo throws, and even sports galleries. They also offer some products which are not that relevant to your photos like limited edition Disney fine art poster collections. This promo is offered regularly along with some sales and discounts for their members.
If you are more into the personalized items, then you really have a wide range of items to choose from depending on your preference as well as the occasion. Invitations and greeting cards containing your photograph are typical of photo printing services like this. So are photo books, canvas prints, collage prints, greeting cards, calendars, as well as art and image galleries. In order to be more competitive with its rivals, Costco Photo has also allowed their members the option of availing photo gifts which come in the form of mugs, clothes, mouse pads, and different ornaments which are as personalized as they could ever be and just perfect as give away items for various occasions.
Why Choose Costco Photo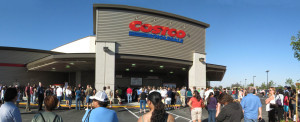 You might think that it would just be just like any other photo printing outlet out there with the typical products and services as well as features like same day pick up and the like. What gives Costco Photo an edge over the competition, perhaps, would be the exclusivity. The necessity of membership adds some sort of burden to the client, but at the same time affords them the exclusivity which allows for cheaper prices aimed at loyal consumers. As such, you could rest assured that as far as Costco Photo prices are concerned you're getting a good deal.
To view more information about Costco Photo, visit their website. If you're interested in printing your photos online, check out our detailed comparison of Snapfish vs Shutterfly print labs.