The newest service provider of world-renowned Federal Express, also known as FedEx, is called FedEx Kinko Office and Print Services, a complimentary provider for...
The newest service provider of world-renowned Federal Express, also known as FedEx, is called FedEx Kinko Office and Print Services, a complimentary provider for FedEx's business. Nearly all of the clients of FedEx Kinko photo services patronize FedEx as their preferred provider of document solutions.
Below are the latest Kinkos photo prices.
Size
Price

Prints & Enlargements (In Hours)

8.5" x 11"
$0.53
8.5" x 14"
$0.53
11" x 17"
$1.06

Black & White

8.5" x 11"
$0.11
8.5" x 14"
$0.11
11" x 17"
$0.22

To Find FedEx Near You
Office and Print Center and Commercial Document Solutions
Meeting the needs of more than a hundred million FedEx customers, FedEx Kinko has put up two divisions, namely the Office and Print Center and the Commercial Document Solutions. The former has retail locations which provide individual consumers and general businesses with the convenience of one-stop accessibility to all of the company's services.
The latter, on the other hand, provides outsourcing of innovative solutions for large accounts to operate more efficiently in a smarter and faster manner. Both the FedEx Kinki Office and Print Center and Commercial Document Solutions offer specialized types of services which have been customized not only for large corporations but also for small- and medium-scale companies, retail customers, and mobile professionals.
FedEx Kinko's Products
Copy and/or Print: creation of top rate quality documents using both color and black and white copying processes, printing, and finishing which result in distinctive-looking manuscripts.
Signs and/or Banners: a full range of styles, colors, designs, and accessories is available at FedEx Kinko from backlit signage, vinyl banners, auto magnets, and metal signage, among others.
Business Documents: help for the business owner in marketing products and services is available through FedEx Kinko's wide array of stationery, brochures, flyers, business cards, invitations, and newsletters.
Technology Services: the Office and Print Center has the latest equipment for CD duplication, video conferencing, docking ports of laptops, workstations of both Windows and Mackintosh, and scanning for high volume audio.
Photo Services: photo gifts, passport photos, photo enlargements, photo art, and photo prints without negatives from any digital media device or digital camera can be created with FedEx Kinko photo services using first rate digital equipment.
Personalized Products: customized images and messages are no longer limited to t-shirts and mugs since FedEx Kinko's incorporation of photos, logos, and text into calendars, greeting cards, mousepads, and laptop covers.
FedEx Kinko Services
The Print Online service is another FedEx Kinko innovation to customize the printing of business documents; customers can just send their manuscripts over to the Office and Print Center where innovative features such as custom tabs and order tracking online are applied to documents for faster and easier printing.
An ordering solution done online, FedEx Kinko's Customer Portal service is the answer to printing-on-demand using state-of-the-art digital equipment. With Customer Portal, a comprehensive catalog of a company's most commonly-printed documents can be created in a short period of time.
Why Choose FedEx Kinko?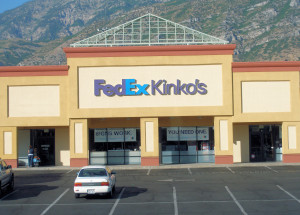 Print Online even offers free shipping for a hundred or more orders. At FedEx Kinko, prices for canvas prints start at $79.99, photo posters at $27.99, cards at $ 19.99 for 20 pieces, calendars at $14.99 a piece, and posters at $22. You pay only $14.95 for two 2"x2" passport photos while photo prints (available in-store) are priced starting at $0.39 for 4"x6" prints.
Why choose FedEx Kinko? Both photographs and business documents are too valuable for their printing and production to be left to chance. While FedEx takes care of the reliable and professional printing and safe delivery of your important documents, FedEx Kinko photo services ensure images that mark life's milestones are quality-produced for future generations to appreciate and cherish.
To view more information about Fedex/Kinkos Photo, visit their website. For more local photo printing options, check out Costco Photo Center or your local CVS.